As the opening ceremony concluded and the arena floor emptied, the crowd grew silent awaiting for the competition to begin. The atmosphere shifted when the announcer directed the audience's attention to a video screen displaying an ongoing hostage situation. Helicopter footage tracked a grey van as it weaved through the street adjacent to the avenue, closely followed by two police vehicles.
The video's tension abruptly turned into reality when the grey van drove into the arena. Sirens blared as two handlers emerged from their vehicles, accompanied by their canines. Tactical teams, including one with a dog, repelled one by one into the centre to support the handlers. The crowd buzzed with excitement as the action unfolded. Little did they know, this was just the beginning of an action-packed day ahead.

Who Let the Dogs Out?
On Saturday, September 9, the Ontario Provincial Police (OPP) and Barrie Police Service proudly hosted the 2023 Canadian Police Canine Association (CPCA) National Police Dog Competition at Barrie's Sadlon Arena. The 45th annual event brought together the country's canine teams to showcase their skills, expertise and dedication to public safety.
'The CPCA is proud to support and bring together police canine teams from across the country to train and compete with one another,' says OPP Sergeant Brad Gillespie, who is currently serving as the president of the CPCA. 'More importantly, this event gives us the opportunity to showcase to our communities the canine capabilities that exist in policing.'
Throughout the week, nearly 40 handlers and their dogs from across Canada engaged in competitions and scenarios that mimicked real-life police situations. The initial four days remained closed to the public, fostering opportunities for the participating handlers to share knowledge and enhance their own training programs.
'National Police Dog Competition is great for networking and sharing training ideas,' said OPP canine trainer Clifford Samson. 'It helps make sure we're all on the same page.'
This marked the competition's first ever occurrence in Ontario, with events spread across Oro-Medonte and Barrie areas, including the Iron Dog event on Friday, September 8 at Hardwood Hills. The Iron Dog featured a rugged 3.5 kilometre forest run with seven unique testing stations for both the handler and dog. It concluded with exhausted yet grateful canine teams dashing to the finish line.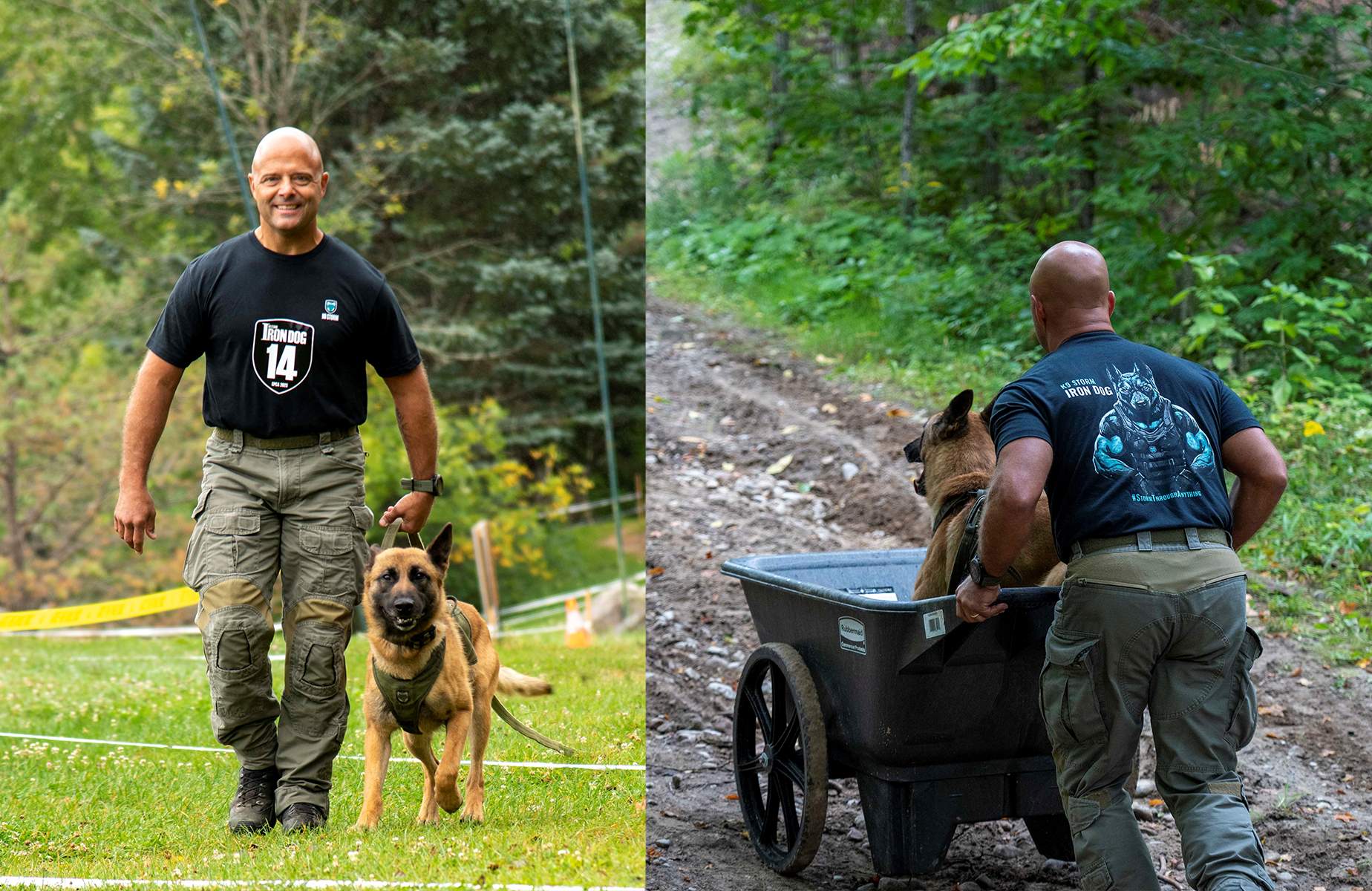 OPP PC Harkness and Haze (left) and completing the first scenario (right) at the Iron Dog.
Given the hard work invested by organizers, judges and competitors, one might wonder: what drives them?
'As a trainer in a large unit recognized across the province, I hope this will give me a bit of credibility,' says OPP canine handler turned trainer, Provincial Constable Denis Harkness. 'It's not about winning or losing; it's about having fun. It's also important for me, at 50 years old, to show that I am able to compete, still able to do all the elements involved in the operational day-to-day life of a dog handler and, hopefully, do it right.'
Despite this being his first competition, PC Harkness secured second place overall, and took home three additional awards.
'Having thousands of people watching you do something, it's different and nerve-wracking,' said Edmonton Police Service canine handler Constable Lauren Croxford, as she stood on the arena stage with her partner, Bender. 'However, you're out there doing something that you love, and sharing that moment with your own police dog, your partner. There's nothing better than that. Once you're doing it, you're living for the moment and having some fun.'
Constable Croxford later discovered she had won four awards and placed fourth overall, providing a truly memorable conclusion to the competition, as Bender will be retiring this year.
Cst. Croxford approaching the Iron Dog event with her partner, Bender.
Round of 'A-Paws': Public Day Competition Highlights
The public day featured a series of events designed to test the abilities of both handlers and their companions. Among the highlights were:
Obedience: Teams showcased their discipline, control and overall responsiveness which emphasized the importance of immediate response to commands, which is crucial in high-pressure law enforcement situations.
Agility: Exemplifying their dexterity and athleticism, handlers and dogs navigated a series of obstacles. A wall where handlers had to climb and hoist their canines over was a particular crowd favourite.
Fastest Dog: In these rapid scenarios, the handler let their dog demonstrate their true speed as they raced to apprehend and control a suspect. A speed reader showed the incredible pace of each canine.
Detection: Teams showed their detection ability by locating hidden narcotics or explosives in the arena and in the crowd.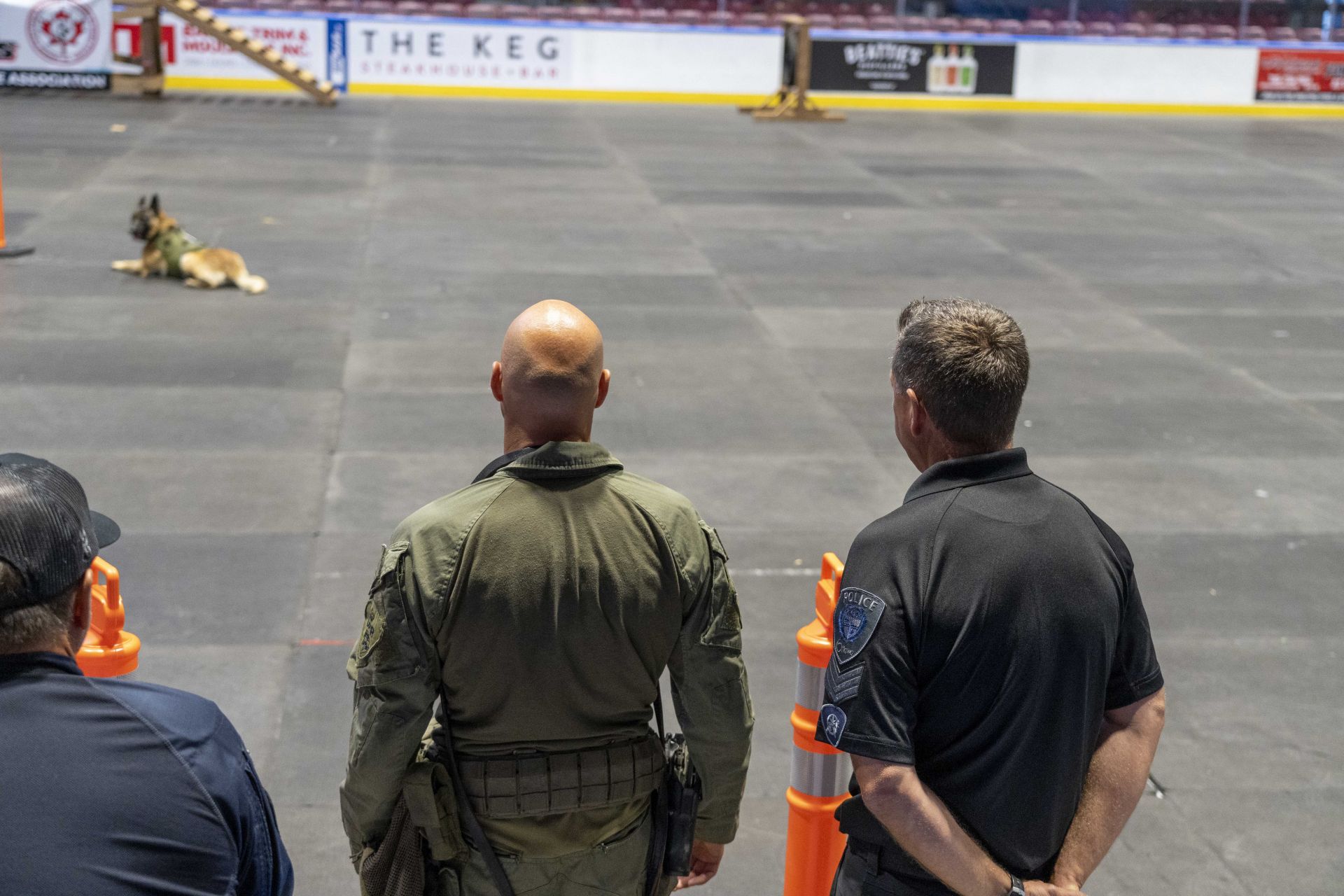 Canine completing an obedience exercise.
For the thousands that attended throughout the day, the competitions showed the canine units in a way not often seen by the public.
'It's a great way to show the community what we do and how much work goes into keeping the public safe,' says Chief Superintendent Dana Earley. 'Canine units provide law enforcement a different perspective; it provides us different options and resources to keep communities safe.'
'To demonstrate to the crowd what our canine officers can do, in conjunction with other support services like tactical, it's impressive,' says Barrie Police Service Chief Rich Johnston. 'I'm amazed and always humbled when you see the canine and their handler working together and what they're able to accomplish.'
Beyond the Show: Paws-itive Impact
'Thank you for what you do,' said 11-year-old Jozef, beaming as he posed for a photo with OPP PC Barry Kelly and his dog while holding the 2023 OPP Canine Unit Calendar open to Dance's featured month.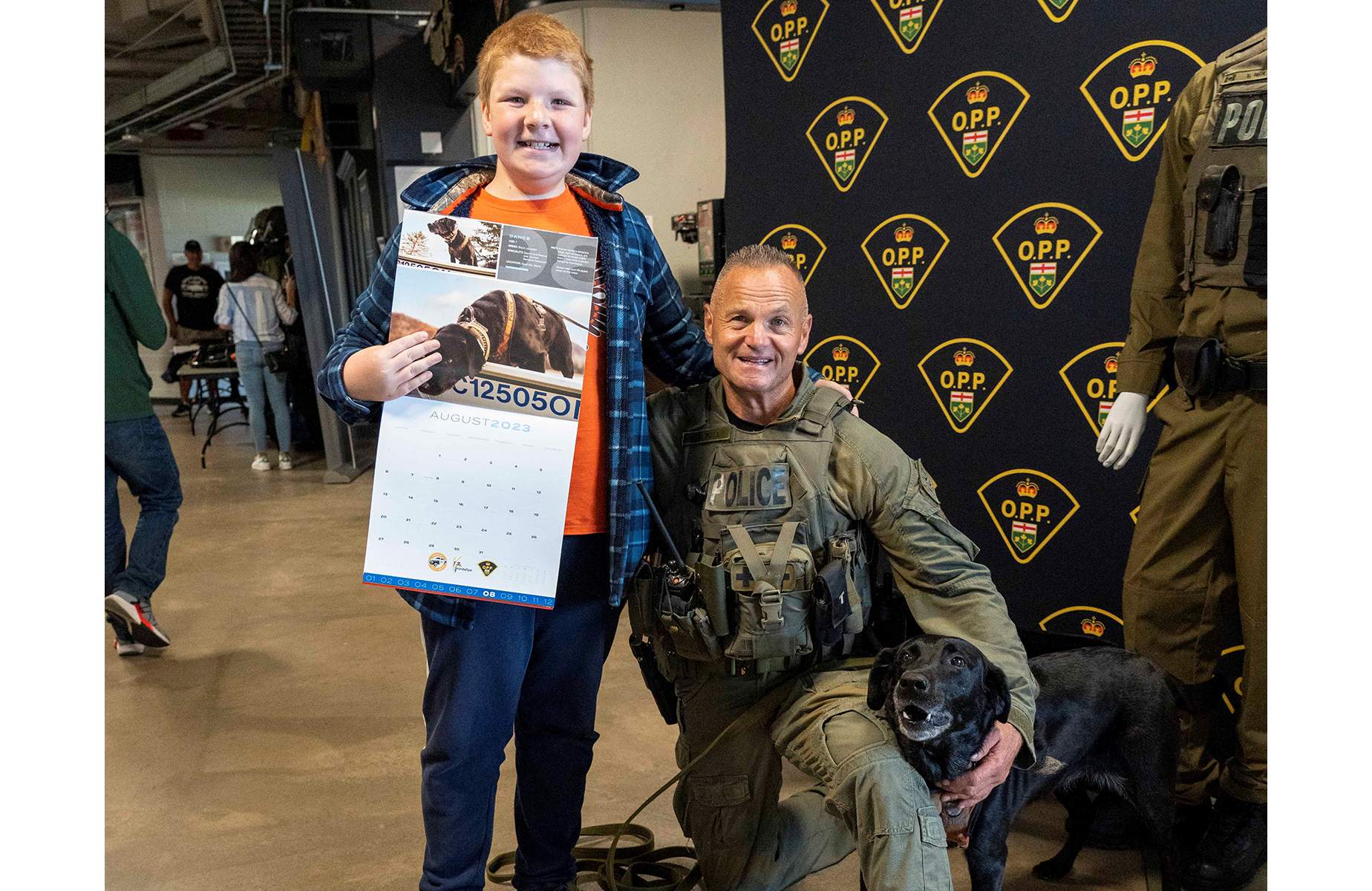 While the competition continued, booths set up around the arena's mezzanine with officers and members of law enforcement and sponsors provided additional attraction. The booths provided community members of all ages an opportunity to ask questions, learn about the services and sponsors, receive complimentary merchandise and even snap a photo with a four-legged companion.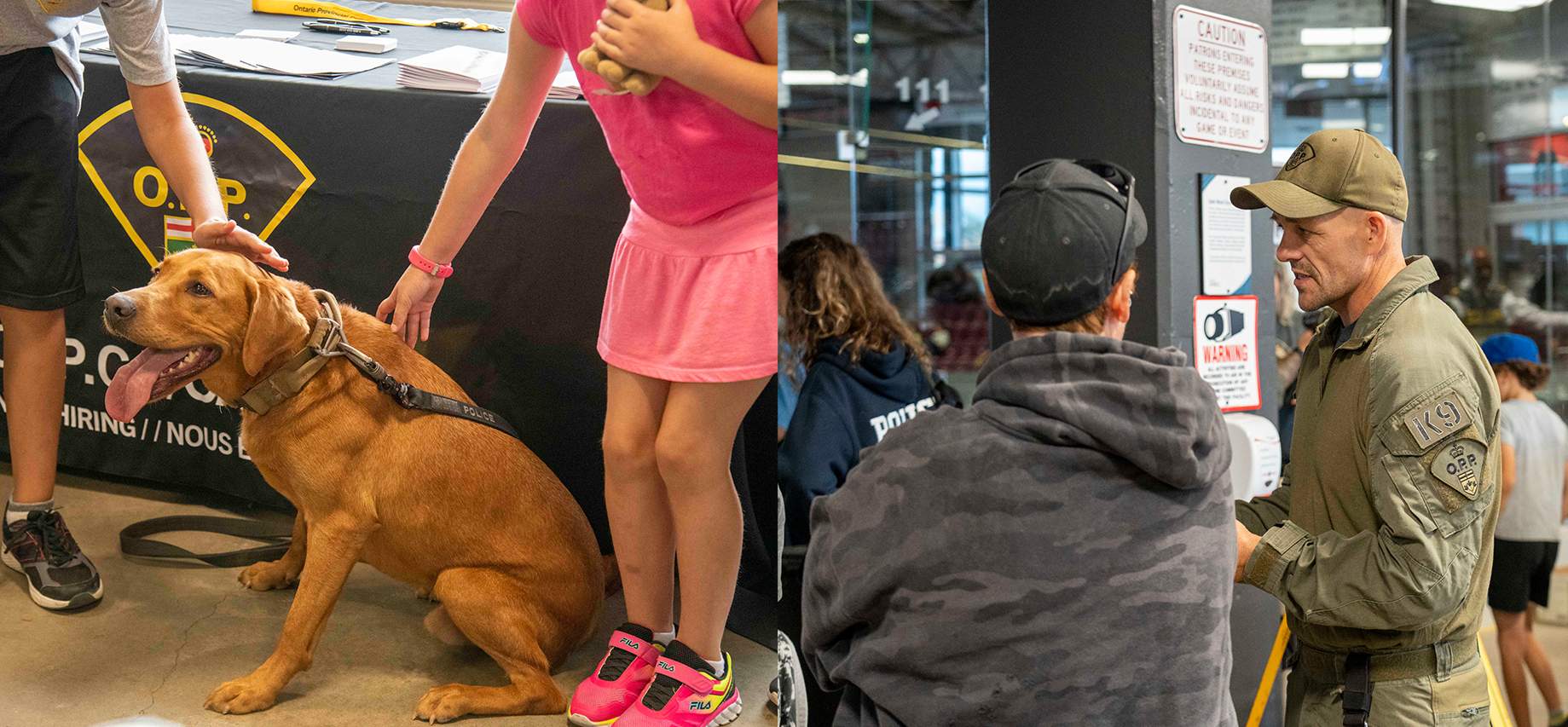 OPP PC Adam Martin and Skeeter converse with community members.
Top Dog: The Results
The events spanning five days were assessed according to specific judges representing various organizations.
'The reality of these trials is that they are set up in a unique way,' explains Sgt. Gillespie. 'As the head judge, I don't know what the criteria will be on any of the events. We do it that way specifically so that host agencies can't prepare for a competition, can't prepare their people for it. We bring judges in from across the country, they go to the venues, set it up, determine what the scoring system is going to be based on that and then provide me with the scores.'
Sgt. Gillespie emphasized the significance of gathering canine teams together in one place.
'These events are a way of gauging where we can get better,' says Sgt. Gillespie. 'There is never a finish line. Stepping up to the plate to take a swing is what deserves our recognition. It is not easy. In looking back and determining where to improve, use those lessons learned. If anyone is critical of you, simply remember, 'it is not the critic who counts, but the men and women in the arena."
The 2023 National Police Dog Competition was an indication of the unwavering dedication of Canadian canine units.
'Tremendous effort has gone into the competition from both the OPP and Barrie Police Service,' says OPP Deputy Commissioner Rohan Thompson. 'To be able to schedule and execute all of the components in a five-day event like this is impressive. Everyone who made this event successful should take immense pride in their accomplishments.'
These remarkable teams reminded everyone in attendance the invaluable contribution made by police dogs and their handlers in keeping communities across the country safe.
Thank you to all who attended and supported the competition. A special thank you to the volunteers, organizers, participants, judges and sponsors.